Intelligent software for high-quality structured documentation
upmedic's mission is to help you use your precious time to DIAGNOSE instead of fighting with bureaucracy. Just delegate repetitive mundane tasks to our SOFTWARE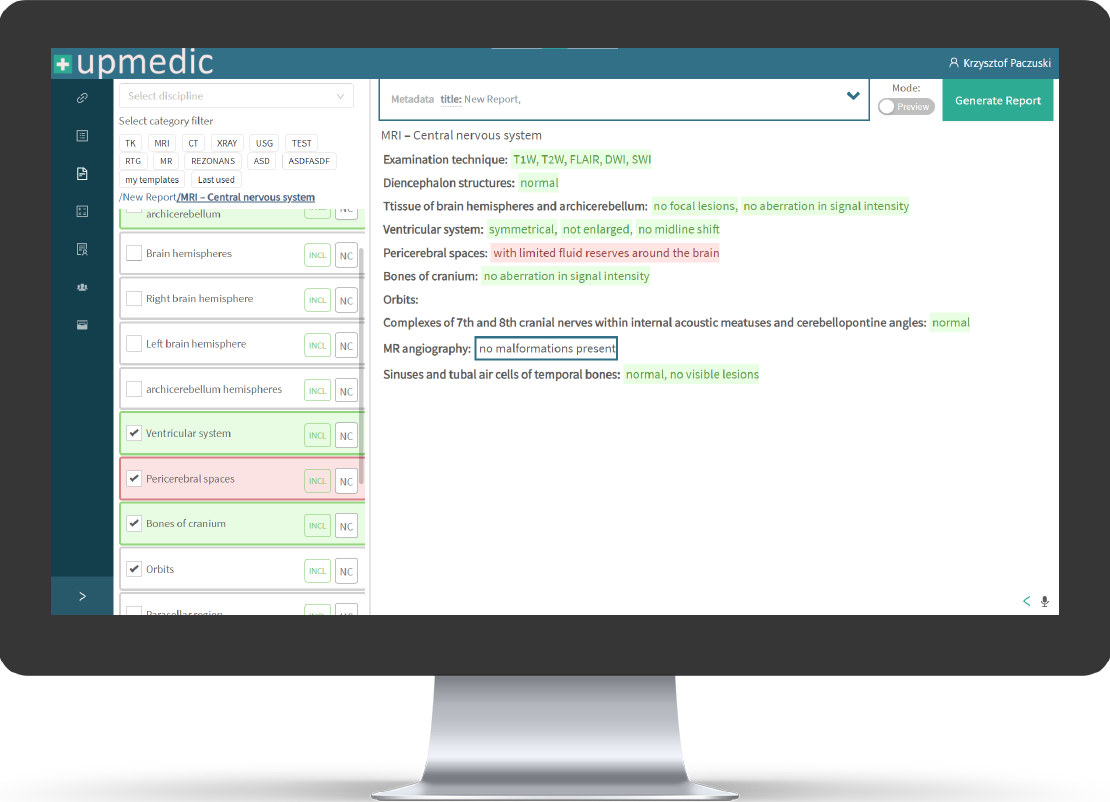 upmedic focuses on satisfying the ever-growing demand for medical diagnostics by helping clinicians with being more productive while making decisions about patients' treatment. We redefine medical documentation workflow by applying cutting-edge technologies in order to automate mundane tasks thus enabling healthcare providers to apply their medical knowledge to enhance patient care.
What is upmedic?
Web based platform for creating, storing and analyzing textual medical documentation. We solve the problem of time consuming unstructured medical documentation by using templates that act like TODO lists. Thanks to this we enable clinicians to create high-quality medical reports that contain standard phrases.
Our template library is created by experts that use our software everyday in their work. Additionally, we support templates created by the RadReport community backed by RSNA.
Workflow
Additionally we support the paperless workflow from booking an appointment by the patient to receiving feedback about the medical service
Our paperless workflow includes:
Designed with interoperability in mind
We support:
HL7 CDA
DICOM SR
MRRT
SNOMED CT
FHIR
Benefits for you and your clinic
We offer our software in the cloud and on-premises
Information flow optimization
Paperless documentation – cheaper and easier auditing
Per-clinic customizations at request
Reporting times of our users speak for themselves
| Template name | Average time (minutes:seconds) without upmedic | Average time (minutes:seconds) with upmedic |
| --- | --- | --- |
| X-ray – Cervical, thoracic and lumbar spine regions | 4:38 | 1:31 |
| X-ray – thoracic spine | 4:20 | 1:26 |
| X-ray – knee joints | 6:32 | 2:11 |
| X-ray – Left hip joint | 3:05 | 0:56 |
| X-ray – left knee joint | 8:45 | 2:33 |
| X-ray – chest | 3:02 | 0:49 |
| X-ray Lumbar | 6:08 | 1:46 |
| X-ray – the lumbosacral spine | 7:06 | 2:29 |
| Trauma X-ray | 2:30 | 0:28 |
| MRI – Sacroiliac joint | 3:32 | 1:06 |
| MRI – Elbow joint | 23:12 | 7:27 |
| MRI – Knee joint | 20:11 | 6:52 |
| MRI – Wrist joint | 15:48 | 5:15 |
| MRI – Ankle joint | 15:29 | 5:06 |
| MRI – Central nervous system | 15:34 | 5:11 |
| MRI – Hip | 12:20 | 4:06 |
| MRI – Shoulder joint | 14:48 | 4:50 |
| MRI – Cervical, thoracic and lumbar spine regions | 10:01 | 3:14 |
| MRI – Lumbar | 19:23 | 6:46 |
| MRI – Chest | 15:25 | 5:08 |
| X-Ray – Lower limb | 3:00 | 0:57 |
| X-Ray – Shoulder joint | 3:51 | 1:18 |
| CT – Head | 10:20 | 3:54 |
| CT – Paranasal sinuses | 12:34 | 4:10 |
| US – Abdomen | 25:45 | 8:32 |
High quality documentation
Standard format reports that include complex medical information and are easy to create. Time to switch your word template to upmedic structured text.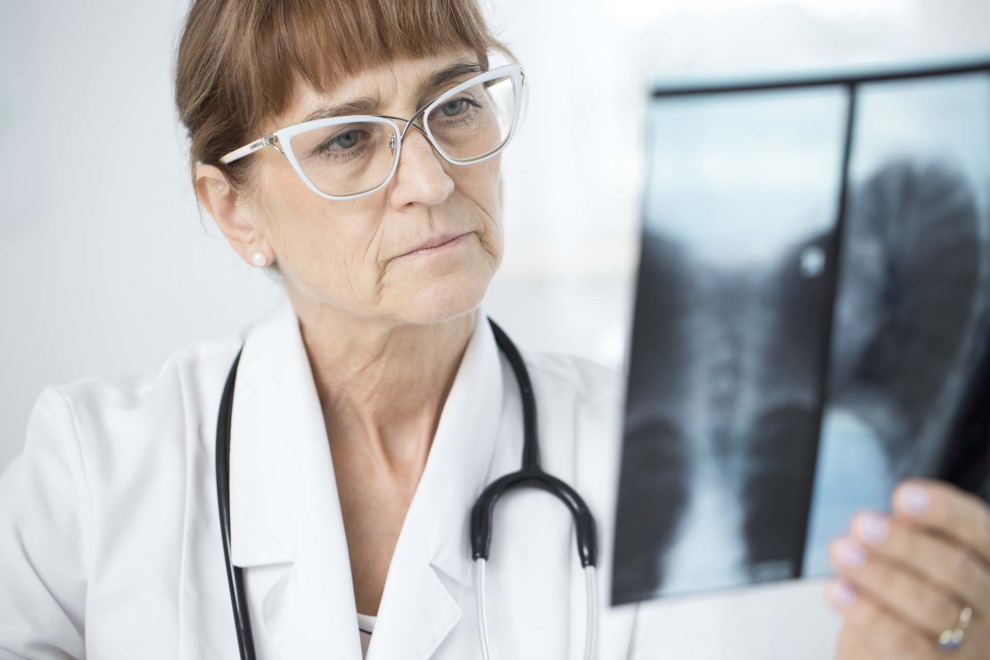 Structured reporting
We have spent thousands of hours with clinicians to create and refine structured reporting text editor that allows for the use of standardized terminologies, e.g. SNOMED CT while maintaining the ability to customize the template when describing unusual cases. According to surveys we conduct with our users, templates created using upmedic cover 80% reporting needs, the remaining 20% can be created by on-the-spot template customization of our Report Creator. Our templates use predefined, well-known phrases. We also take care of punctuation (adjustable), so reports look clean and professional. This helps patients to receive complete documentation that they trust and are more satisfied with the quality of medical services. Template-driven reporting acts like todo lists for clinicians making sure organs are described in the same order. Why bother? We love introducing ideas of text usability to medical documentation.
Customizable structured templates containing most popular phrases.
Reports based on customizable templates.
Highlight parts of the document that are of special importance to the overall diagnosis (connotations).
Medical forms for scales, calculations performed during creating documentation.
Standard terminology – SNOMED CT
SNOMED CT (SNOMED Clinical Terms)is the collection of clinical healthcare terminology, providing also codes, terms, synonyms and definitions used in medical documentation. It is considered to be the most comprehensive one and multilingual. SNOMED CT was created by an international non-profit standards development organization - International Health Terminology Standards Development Organisation (IHTSDO). We use SNOMED CT to automatically analyze medical documentation and provide unique reporting capabilities at the level of a single observation.
Use AI only if it is worth it
Training a machine learning model is a very tedious and time as well as money consuming task. As a result we obtain an image analysis mechanism that automates recognizing very well known pathology. However, there is a huge class of pathologies that are too rare/complex to create a model to recognize them. upmedic templates are created and refined by humans. During reporting time, templates can be used by AI models to select phrases related to what model found in the imagery, leaving the freedom for the clinician to adjust any diagnosis, provide additional findings, and correct its mistakes. upmedic uses AI/ML when we clearly see an application for it: we use NLP to support radiologists with automatic reasoning in medical documentation. Our models allow for knowledge discovery in structured medical documentation, and they can also extract ICD-10 codes, SNOMED CT concepts in unstructured documentation automatically.
BYOT Bring Your Own Templates
Seamless onboarding: send us your templates and we will add them to your upmedic account, so you can benefit from productivity improvements from day 1!
Recommendation
Diagnose patients
Workflow optimization
Patient-first
Productivity
Most of the software treats templates as a piece of text copied from one place to another, while upmedic makes them an integral part of the process and a basis for creating the documentation. The time spent on creating custom templates pays off quickly, and results in a stress-free workflow focused on diagnosing rather than bureaucracy.
Using upmedic in our clinics allowed us to service 18% more patients having the same medical staff.