EuSoMII Annual Meeting, Valencia 14-15.10.2022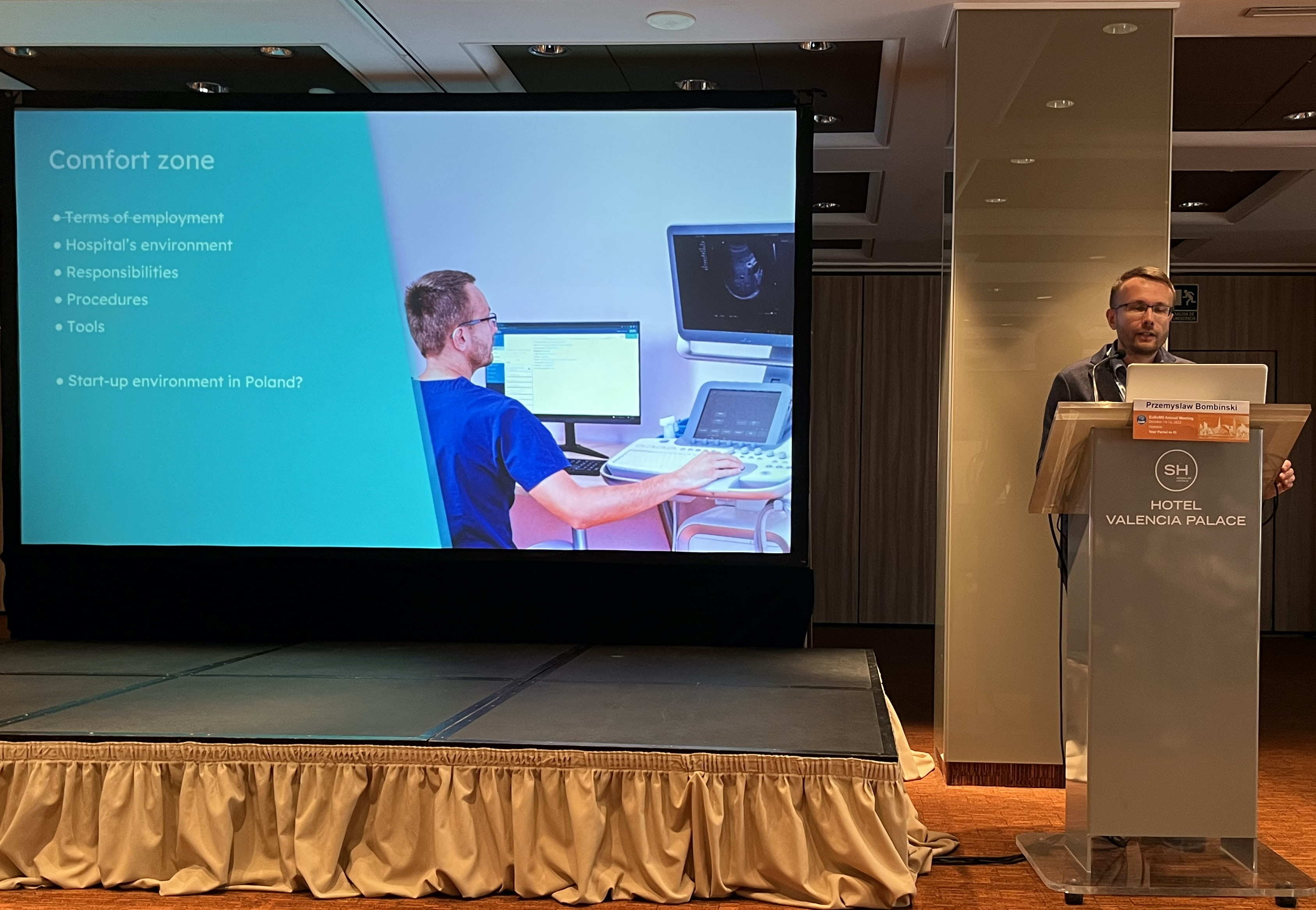 Autor: dr n. med. Przemysław Bombiński
Młodych ludzi nie trzeba przekonywać do nowych technologii – są nią otoczeni, chłoną wszystko, co z nią związane. W niektórych przypadkach wystarczy ukierunkować ich działania. Tak też działa EuSoMII Young Club – niezwykła inicjatywa stworzona przez EuSoMII, która pozwoliła zgromadzić grupę energicznych młodych ludzi (lekarzy, inżynierów, naukowców), zainteresowanych wykorzystaniem nowych technologii w medycynie. Young Club pokazał się ze świetnej strony podczas zakończonego właśnie EuSoMII Annual Meeting (14-15 października 2022).
Dlaczego relację z konferencji zaczynamy właśnie od Young Club? Ponieważ można zauważyć, że wiele towarzystw naukowych zapomina o młodzieży – "starsi" zamykają się w swoich "zarządach", "sekcjach", nie inwestując w młodzież. EuSoMII prezentuje podejście, które należy naśladować, a efekty było już widać podczas spotkania.
EuSoMII (European Society of Medical Imaging and Informatics) jest organizacją – towarzystwem naukowym, zajmującą się łączeniem radiologów, rezydentów, naukowców, inżynierów i informatyków głównie w zakresie radiologii i diagnostyki obrazowej, ale również innych specjalności lekarskich. W ostatnich latach jednym z głównych obszarów zainteresowania jest sztuczna inteligencja (AI) i uczenie maszynowe (ML). Współpracuje ściśle z ESR (European Society of Radiology) i RSNA (Radiology Society of North America).
W ramach Konferencji po raz pierwszy w historii odbyła się sesja "EuSoMII meets Poland", na której swoje wykłady mieli okazję zaprezentować przedstawiciele Polski – prof. Robert Chrzan (UJ, Kraków) oraz ja osobiście 🙂 Prof. Chrzan przedstawił doświadczenia z okresu pandemii Covid-19 i przekształcenia ogromnego Szpitala Uniwersyteckiego w szpital "covidowy". Moja prezentacja z kolei opisywała trudności, jakie mogą wynikać w trakcie wdrażania nowych technologii w codziennej pracy radiologa. Jak się okazuje, podobne spostrzeżenia pojawiały się w prezentacjach innych prelegentów oraz w rozmowach kuluarowych. Działania takie jak edukacja o sztucznej inteligencji (zarówno wśród lekarzy, jak i pacjentów), konieczność bliższej współpracy pomiędzy lekarzami, naukowcami i "biznesem", tworzenia standardów w radiologii, czy wreszcie szerszego zastosowania strukturyzacji opisów są wyzwaniami ogólnoeuropejskimi i pojawiają się w kręgu zainteresowania EuSoMII.
Konferencja po raz kolejny odbyła się w Walencji (Hiszpania). Przepięknie położone miasto, z wieloma atrakcjami (m.in. największe oceanarium w Europie), z przemyślaną infrastrukturą (decyzją mieszkańców, koryto rzeki płynącej niegdyś przez środek miasta zostało zamienione na piękny park długości 9 km!!!). W rozmowach kuluarowych usłyszeliśmy, że w niedalekiej przyszłości jest szansa na zmianę lokalizacji konferencji – kierunek Polska! Z niecierpliwością czekamy na dalsze informacje.